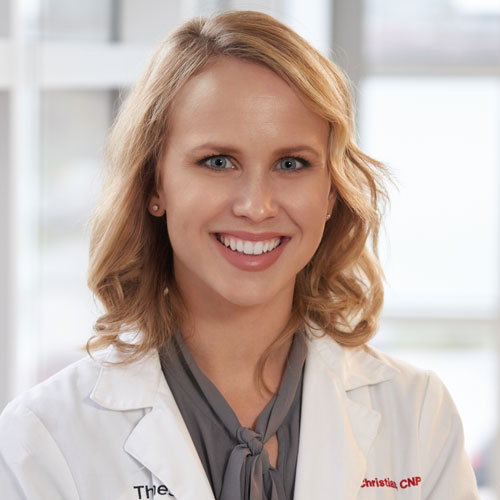 Alexandria Christian, APRN-CNP
Gender
Female
Biography
I am a nurse practitioner in the Division of Surgical Oncology at the OSUCCC – James, where I assist in the treatment and management of breast cancer, benign breast conditions and acute breast problems. I am passionate about my career at the Stefanie Spielman Comprehensive Breast Center because I get to help patients and their families through a very difficult and often scary part of their lives. I enjoy accompanying each patient through their breast cancer journey and into recovery one step at a time.
This is the same quality of care that you can expect to find throughout The James, as we offer a relationship-based approach to cancer care that focuses on developing strong, individual bonds with our patients. From nurses and nurse practitioners to support staff and the friendly crew in food services, we are a family whose primary goal is to serve our patients.
The OSUCCC – James is truly a great place to work, especially when you're collaborating with some of the best nurses and other providers in cancer care. I am proud to be part of such an amazing team as we strive to deliver the highest quality care to our patients and their families.
Education and Background
Education

University of Cincinnati College of Nursing

Cincinnati, OH
Academic Department

Department of Surgery

Division of Surgical Oncology
Back to Find a Doctor Search