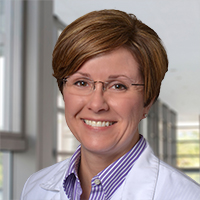 Amanda Hettinga, APRN-CNP
Gender
Female
Biography
I am a nurse practitioner in the Division of Medical Oncology at The James, where I treat patients with head and neck cancers, including tongue cancer, throat cancer, laryngeal cancer and sinus cancer, as well as squamous cell carcinoma. It is my privilege to be a small part of the journey with patients and their families during this difficult and vulnerable time.
At the OSUCCC – James, we make every attempt to provide holistic care to our patients. I am part of a multidisciplinary team that works closely with each department – including medical oncologists, surgical oncologists, radiation oncologists and others – to ensure that every patient has a personalized treatment plan that meets their specific needs.
Working at The James is a very rewarding experience. It's great to know that I'm alongside a group of like-minded people who are dedicated to providing the very best care to our patients in order to give them the best quality of life.
Back to Find a Doctor Search