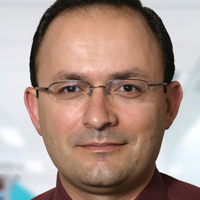 Amir Mortazavi, MD
Overall Patient Satisfaction Rating
Gender
Male
Biography
As an oncologist, I manage all types of genitourinary malignancies such as prostate, testicular, kidney and male genitalia cancers. Yet my primary focus is clinical bladder cancer care. I was rated in the top 10 percent of physicians in the nation for patient satisfaction in 2014, 2016 and 2017.
I was first trained in medicine at the University of Tehran and, later, studied internal medicine at the University of Buffalo. In Buffalo I also conducted research at the Roswell Park Memorial Cancer Institute. I currently serve as an assistant professor of clinical internal medicine for Ohio State's College of Medicine.
My research interests include the development of novel pharmaceutical agents for chemoprevention and experimental therapeutics for the treatment of genitourinary cancers. I've authored many articles in pertinent medical journals detailing my research and findings. Additionally I have collaborated with other specialists on studies of bladder cancer prevention with unconventional dietary and nutritional strategies. 
What I enjoy most working at The James is the tremendous desire of my peers to work together to provide optimal care for patients. With our multidisciplinary approach – a combination of research, education and care – patients receive unparalleled treatment. This is a special place that provides latest technology, knowledge and resources to work as we strive toward a cancer-free world.
Back to Find a Doctor Search