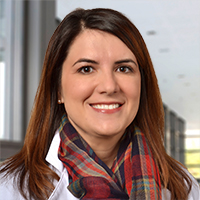 Amy Edwards, APRN-CNP
Gender
Female
Biography
I am a nurse practitioner in the Division of Neuro-Oncology at the OSUCCC – James, where I specialize in treating primary brain and CNS tumors, glioblastomas, brain metastasis and leptomeningeal disease.
My journey into neuro-oncology was incredibly personal. After losing my grandma to brain cancer, I knew that I wanted to make a difference and help provide care for those battling the same disease. I believe in treating the whole individual: mind, body and spirit. Our patients all have unique and very personal experiences, and it is important to me that we continue to embrace the patient as a whole and not just manage their diagnosis. Oftentimes, we have to think outside the box and get creative, but I love the care that we provide at The James.
The physicians, APPs, clinical staff and even James Patient Access Services all contribute to an environment where I know with certainty that personalized patient care is the number one priority. I chose to work at Ohio State specifically because of their reputation for excellence, as well as the sense of family on campus and the huge push for social responsibility with fundraisers like Pelotonia.
In addition to my work at The James, I'm an active captain in the United States Army Reserve and a paramedic instructor. I have also served as the director of the First Aid Center at the Ohio State Fair for several years and have ridden in Pelotonia.
Back to Find a Doctor Search