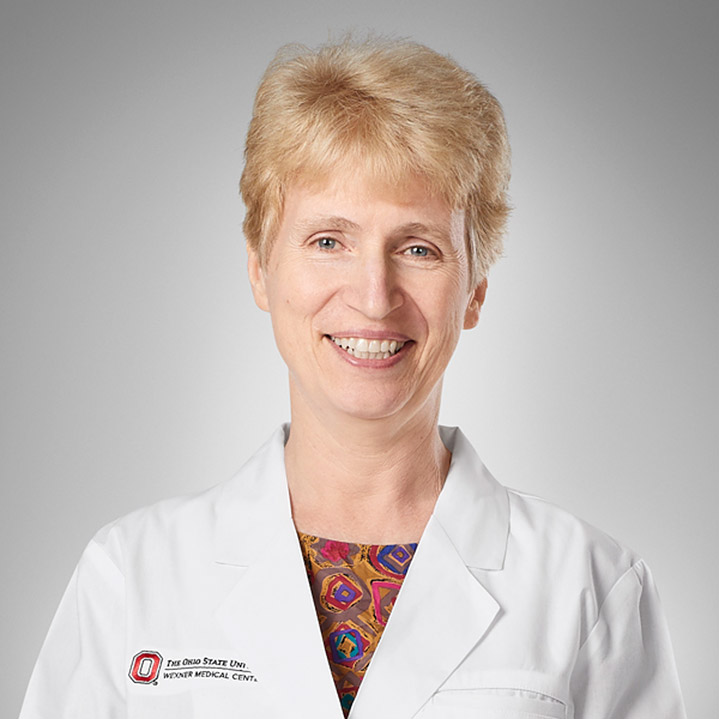 Claire Verschraegen, MD
Overall Patient Satisfaction Rating
Gender
Female
Language
Dutch, English, French, Spanish
Biography
I am a professor of medicine and director of the Division of Medical Oncology in the Department of Internal Medicine at The Ohio State University College of Medicine. I also hold the Diane Nye and Michael Rayden Chair in Innovative Cancer Research at Ohio State and serve as associate director for translational research at Ohio State's Comprehensive Cancer Center.
I am a board-certified medical oncologist who specializes in treating patients with rare cancers, including mesothelioma, metastatic melanoma, sarcomas and gynecologic malignancies. Another of my specialties is the study of new anticancer drugs and treatments for solid tumors. My work has been continuously funded for more than 20 years, including grant support for phase I, II and III clinical trials. I have been appointed by the National Cancer Institute (NCI) to serve on many committees, such as the NCI Gynecological Cancer Steering Committee, which approves the federally-sponsored randomized studies for gynecological cancers.
I was recruited to Ohio State in 2017 from the University of Vermont, where I was a professor of medicine, director of Hematology/Oncology, director of the cancer service line and co-director of the University of Vermont Cancer Center. I earned my master's degree and medical degree at the Université Libre de Bruxelles in Belgium and trained at the Institut Jules Bordet in internal medicine/oncology. I then completed a cancer research fellowship at the Stehlin Foundation for Cancer Research and an internal medicine residency training at the University of Houston, followed by a medical oncology fellowship at The University of Texas MD Anderson Cancer Center.
In my 30 years as an academic medical oncologist, much progress has been made in treating some cancers through novel targeted therapies and immunotherapies, a result of the well-planned clinical and translational studies to which I have devoted the greatest part of my professional life. I am privileged to continue this mission at the OSUCCC - James, with which I share a vision of creating a cancer-free world.
Back to Find a Doctor Search