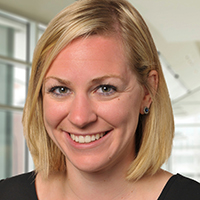 Deanna Hunt, APRN-CNP
Overall Patient Satisfaction Rating
Gender
Female
Biography
I am a certified nurse practitioner with clinical experience in gynecologic oncology, medical oncology, radiation oncology, surgical oncology and more. I currently work in the Division of Gynecologic Oncology at The James, which specializes in all gynecologic cancers, including ovarian, cervical, endometrial, vulvar and vaginal.
After receiving my master's degree in nursing from The Ohio State University, I completed a year-long competitive oncology fellowship at the OSUCCC – James as one of six nurse practitioner fellows. That opportunity led to my current position with The James, where I perform physical exams, manage medication and chemotherapy plans, and work closely with physicians to provide the best possible care to every patient.
Working at The James has also afforded me the ability to stay up to date on unique clinical trials and collaborate with the clinical trials team. I enjoy being able to make a difference in the lives of others, and that's all thanks to the amazing support of our physicians and staff.
Reviews
Patient Satisfaction Review
The overall patient satisfaction rating is an average of all patient responses to the five questions gathered from the Outpatient Oncology survey, developed by Press Ganey Associates for use in oncology clinics across the country. On behalf of The James, Press Ganey administers the survey to patients who see our providers in an outpatient clinic office. For additional information about the patient satisfaction survey, please visit our Patient Satisfaction Survey page
The comments are submitted by patients and reflect their view and opinions. The comments are not endorsed by and do not necessarily reflect the views of The James.
Overall Ratings (out of 47 reviews)
Kept you informed about your condition and treatment
Amount of time spent with you
Concern for your questions and issues
Back to Find a Doctor Search