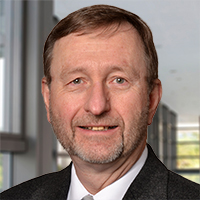 Howard Paskett, PA-C
Overall Patient Satisfaction Rating
Gender
Male
Biography
I am a physician assistant in the Division of Orthopedic Oncology at the OSUCCC – James, where I specialize in treating all cancers involving the bones, many of which need surgery to prevent or treat fractures or remove primary bone tumors. Bone cancer can be a very debilitating problem, but we are able to assist patients in maximizing function along with treating their cancer.
At The James, we have assembled a top-notch team of experts in the care of sarcoma patients. This starts with world-class pathologists who work at one of the few locations in the United States that offer the option of performing a "fine-needle aspiration" biopsy during a clinic visit for a same-day diagnosis. I work directly under the direction of two orthopedic oncology surgeons who perform surgery either by themselves or in conjunction with other surgical teams from plastic surgery, general surgery, neurosurgery, vascular surgery and urological surgery. We also have medical oncologists and radiation oncologists who specialize in the care of sarcoma, in addition to a great nursing and clinical staff.
The James is an outstanding facility designed and planned to provide nothing but the best care. I really enjoy working with people who have the same passion for cancer treatment and research, as well as our shared mission of a cancer-free world.
Education and Background
Education

Physician Assistant

Wake Forest Baptist Medical Center

Winston Salem, NC
Board Certifications

National Commission on Certification of Physician Assistants
Academic Department

Department of Orthopaedics
Reviews
Patient Satisfaction Review
The overall patient satisfaction rating is an average of all patient responses to the five questions gathered from the Outpatient Oncology survey, developed by Press Ganey Associates for use in oncology clinics across the country. On behalf of The James, Press Ganey administers the survey to patients who see our providers in an outpatient clinic office. For additional information about the patient satisfaction survey, please visit our Patient Satisfaction Survey page
The comments are submitted by patients and reflect their view and opinions. The comments are not endorsed by and do not necessarily reflect the views of The James.
Overall Ratings (out of 50 reviews)
Kept you informed about your condition and treatment
Amount of time spent with you
Concern for your questions and issues
Patient Comments (5 total comments)
The best/of all my doctors who have doctored me the last ten years, coming November 2019 - 2009. Dr. Joel Mayerson, MD Howard A. Paskett PA & others!! THE BEST. 4. The best known.
Dr was not familiar with the frequency of my follow ups. Tried to tell me it was 4 months when it is actually a year. Disappointing...
I have been under Dr Joel Mayerson's care since 2004, so I can speak from much experience. I believe he is without peer in terms of providing state-of-the-art, professional, knowledgable, personable, and caring medical treatment. The James is fortunate to have him and I am fortunate to be under his care.
Dr. Paskett has taken over my follow-ups from Dr. Schorschmit and I have been very blessed to have had them both on my cancer team.
Back to Find a Doctor Search