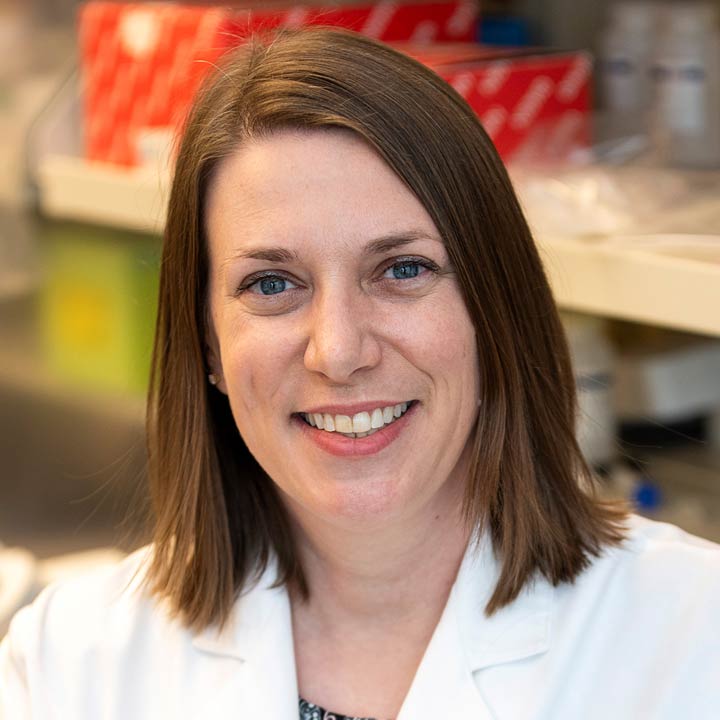 Jennifer Woyach, MD
Overall Patient Satisfaction Rating
Gender
Female
Biography
I am an oncologist treating patients with blood cancers. I specialize in chronic lymphocytic leukemia (CLL) and B-cell lymphomas. I also serve as an associate professor in Ohio State's division of hematology. Our approach to patient care is truly unique at OSUCCC – James. We work in teams of specialists, subspecialists and super subspecialists to better treat specific cancers, while never forgetting the power and value of personalized, patient-centered care. I was named to the Castle Connolly list of "Regional Top Doctors" in 2019, as well as being rated in the top 10 percent of physicians in the nation for patient satisfaction in 2017.
My research focus is on CLL and other blood cancers. I conduct laboratory research and lead clinical trials to develop novel therapies for patients with these conditions. I am especially interested in targeted therapies for patients with CLL and figuring out ways to overcome resistance to targeted therapies. Like my colleagues, I'm determined to keep searching until I find a cure.
In 2015, I was honored with a Young Physician-Scientist Award from the American Society of Clinical Investigation. My work has been featured in several medical publications, including the New England Journal of Medicine, Journal of Clinical Oncology, and Clinical Cancer Research. I have presented my research findings nationally and internationally.
At The James, we know there are no routine cancers. That's why I stay current with new knowledge in my field as a participant in several professional associations. I'm a member of the American Society of Clinical Oncology, American Association for Cancer Research and American Society of Hematology where I serve on a number of subcommittes. I also serve as a member of the Leukemia Committee and the Cancer in the Elderly Committee for the Alliance for Clinical Trials in Oncology, which is a group of cancer centers that designs and runs clinical trials to help improve the care of CLL patients around the country. By working with other specialists around the country, we can improve our understanding of CLL biology and therapy, and I can apply this knowledge to improve the lives of the patients we see here at the James.
Back to Find a Doctor Search