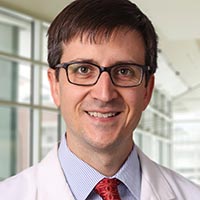 Lawrence Shirley, MD
Overall Patient Satisfaction Rating
Gender
Male
Biography
I am a surgical oncologist with a focus on endocrine tumors of the thyroid, parathyroid and adrenal glands. Once patients have a diagnosis of cancer, I'm able to collaborate with my colleagues to make sure these patients have the most cutting-edge treatments available. My research interests include the development of novel therapeutics for aggressive thyroid cancer, as well as determining the role of a tumor's microenvironment in thyroid cancer progression. At the OSUCCC – James, we use the latest technology to help make this determination so that we can safely remove some cancers while keeping other patients from unnecessary procedures.
I also serve as an assistant professor of surgical oncology in The Ohio State University College of Medicine and have co-authored many articles in such journals as Cancer Research, Annals of Surgical Oncology and Journal of the National Comprehensive Cancer Network. I am currently the program director of our Complex General Surgical Oncology Fellowship, training the next generation of cancer surgeons.
There is no greater honor than being able to practice alongside some of the most renowned cancer experts in the world. Beyond this, there's a wonderful camaraderie among my colleagues. In the end, we're all focused on one goal: creating a cancer-free world.
Back to Find a Doctor Search