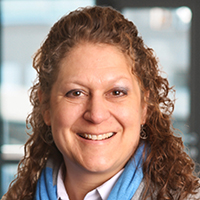 Lisa Ward, PA-C
Gender
Female
Biography
I'm a physician assistant in the Division of Endocrinology at The James. After graduating from the Kettering College of Medical Arts in 1998, I went on to earn my master's in kinesiology from Indiana University. I spent the next 15 years at a family practice before accepting a position at the OSUCCC – James, where I currently work with four thyroid cancer specialists and one adrenal/pituitary specialist.
Endocrine cancers and disorders can cause people to generally feel poor, and I enjoy being able to help patients feel better and correct hormonal abnormalities related to their cancers. The physicians that I work alongside are world-renowned in their field. We are on the forefront of many endocrine cancer treatments, using a multidisciplinary treatment approach that collaborates closely with the surgical oncology and medical oncology teams.
Everyone at The James is focused on the same goal of helping patients beat cancer. I know we are making an impact on patients' quality of life, and that makes me incredibly proud to be a part of the OSUCCC – James team. Outside of my duties at The James, I volunteer at the Mid-Ohio Food Bank on a regular basis, where I can continue to make a difference in people's lives.
Education and Background
Education

Indiana University Bloomington

Bloomington, IN

Physician Assistant

Kettering College of Medical Arts

Kettering, OH
Board Certifications

National Commission on Certification of Physician Assistants
Academic Department

Department of Internal Medicine

Division of Endocrinology and Metabolism
Back to Find a Doctor Search