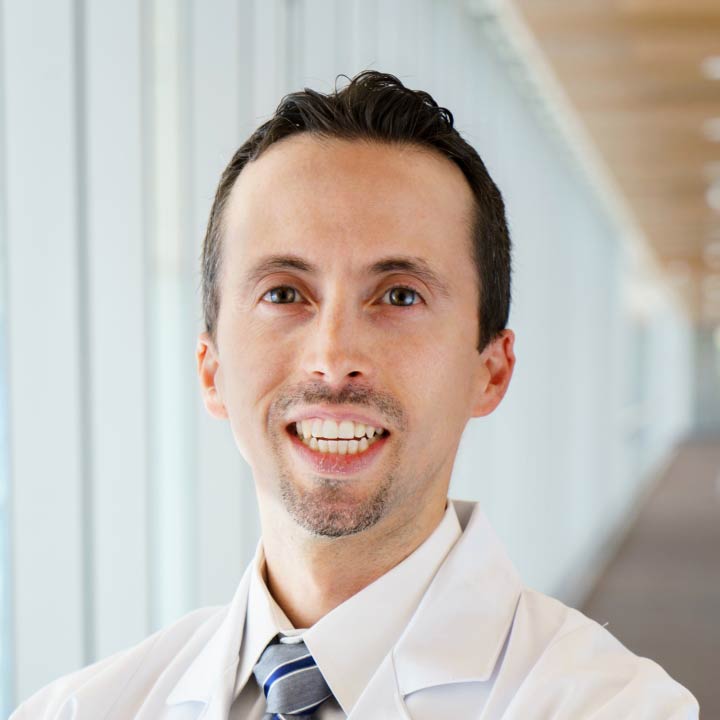 Terence Williams, MD, PhD
Overall Patient Satisfaction Rating
Gender
Male
Biography
I am a radiation oncologist who specializes on treating patients with thoracic and gastrointestinal cancers (with a particular emphasis on non-small cell lung cancer, pancreatic cancer, and hepatobiliary malignancies). I work with world-class colleagues in various disciplines such as surgical oncology and medical oncology to provide the best possible care for our patients.
My clinical interests include adapting novel radiotherapy techniques (such as stereotactic body radiotherapy) to improve outcomes for our patients, and utilizing functional imaging such as MRI and PET-CT to better understand how tumors respond to therapy. I am actively involved in bringing novel clinical trials to the Ohio State University, as well as developing our own clinical trials that will both provide the most innovative treatments for our patients. I serve key roles on multiple National Cancer Institute groups to develop trials incorporating new drug and radiation combinations.
Additionally, I head a research lab investigating new ways to treat cancer. My lab is funded to conduct research in DNA damage response mechanisms in normal and tumor cells after radiation or chemotherapy, particularly as it relates to oncogene activity. Oncogenes are proteins in tumor cells that are mutated and drive tumor growth and resistance to treatments. In addition, my research team and I attempt to better understand how tumors bring in nutrients into tumors cells and how these pathways may be exploited for therapeutic efficacy. Finally, we are actively involving in profiling tumors at the molecular level to identify new pathways that are aberrant and may be driving treatment resistance, as well as developing new molecular "signatures" that could predict outcomes or response to therapies.
I've received funding and awards from the National Cancer Institute, the National Institute of Health, the American Society of Radiation Oncology (ASTRO), American Society of Clinical Oncology (ASCO), American Cancer Society (ACS), and the Radiologic Society of North America (RSNA). I have given talks both at national and international conferences and universities regarding my research. We have also published numerous articles in medical journals including Cancer Research, Clinical Cancer Research, Journal of Clinical Oncology, Proceedings of the National Academy of Sciences, Molecular Cancer Therapeutics, and the Journal of Clinical Investigation.
Education and Background
Education

Albert Einstein College of Medicine

Bronx, NY
Residencies

University of Michigan Medical Center

Ann Arbor, MI
Board Certifications

American Board of Radiology (Subspecialty: Radiation Oncology)
Academic Department

Department of Radiation Oncology
Consulting and Related Relationships
At The Ohio State University Wexner Medical Center, we support a faculty member's research and consulting in collaboration with medical device, research and/or drug companies because a faculty member's expertise can guide important advancements in the practice of medicine and improve patient care. In order to provide effective management of these relationships, the university requires annual disclosures from all faculty members with external interests related to their university responsibilities. As of 11/21/2019, Dr. Williams has reported no relationships with companies or entities.
Reviews
Patient Satisfaction Review
The overall patient satisfaction rating is an average of all patient responses to the five questions gathered from the Outpatient Oncology survey, developed by Press Ganey Associates for use in oncology clinics across the country. On behalf of The James, Press Ganey administers the survey to patients who see our providers in an outpatient clinic office. For additional information about the patient satisfaction survey, please visit our Patient Satisfaction Survey page
The comments are submitted by patients and reflect their view and opinions. The comments are not endorsed by and do not necessarily reflect the views of The James.
Overall Ratings (out of 66 reviews)
Kept you informed about your condition and treatment
Amount of time spent with you
Concern for your questions and issues
Patient Comments (4 total comments)
Dr. Williams has been fantastic and has always shown genuine concern. He has given us all the time we need to get all questions answered.
Dr. Williams is a wonderful dr. He really explains well and is always ready and willing answer my questions.
Dr. Williams was very knowledgeable - and made us feel at ease with his expertise.
Dr. Williams is very patient with my questions. Greatly appreciated.
Related Videos
Genomics Discovery Can Further Improve Radiation Therapy Treatments
Back to Find a Doctor Search